In this post, I will go over how to use free viral mailer and safelists to build yourself a list that you can promote to on autopilot.  The first part goes over how to make a capture page that you can use in the free viral mailer and free safelist mailers.   Then I will discuss how to find the best free safelists and viral mailers that have been proven to convert and how to use them to get even better conversions.
The best way to use free viral mailer and safelists is to promote a splash page or capture page.  This will get people to join your email list so you can automatically promote to them.
How To Create A Campaign and Capture Page Using Trafficwave:
Here is a step-by-step approach to creating a Trafficwave campaign and splash page.
1. Click on the banner below to get a free trial to TrafficWave unless you are already a member:
2. Sign in to your Trafficwave account.
3.  Under AutoResponder Links click on Create New Campaign
5.  Follow the Create a Campaign Wizard to create your campaign
The following shows you how you can use TrafficWave to create a capture page after you have created your campaign:
1. Click on Go To Campaign under Autoresponders and select which campaign you want to create a capture page for.
2. Choose Campaign Profile
3. At the top under CAPTURE PAGES/FORMS click on Hosted Capture Pages
4. Click on Create Customized Hosted Capture page
5. You can either use the default template or click the button to choose a different template and fill out the form.
How To Use A Free Viral Mailer or Safelist Effectively:
First you will want to sign up for a new gmail account so you don't get overwhelmed with emails at your primary email account.  You will want to use the new email account for your list email address when signing up to the viral mailers and safelists.
Then you will want to use the best free safelists and viral mailers to get better conversion rates.  Click on the links below to find them:
Click Here For The Best Free Safelists and Viral Mailers
Click Here For Sites That Were Tested and Proven To Convert
You can also click on the banner below to find more of the best free safelists and viral mailers:

How To Configure Your Gmail Account
Once you have joined some of the free viral mailer and safelists and have started to recieve email from them, you will want to set up your gmail account to filter them.
1.  Click on an email from one of the safelists to open it
2.  Click on the vertical ellipsis that comes after the star and arrow on the right side of the email
3.  Click on Filter Messages Like This

4. Click on Create Filter

5  I usually select the choices to Skip The Inbox, Apply The Label, Never Send It To Spam, and Also apply filter to matching conversations.  When choosing a label I put the name of the safelist it is for.
This will make it easier when you need more credits for a specific safelist or viral mailer.
---
How To Get Free Credits To Email Free Viral Mailers and Safelists
:
In order to save yourself a lot of time and clicking, you should use promo codes.  With promo codes, you can get free credits, banner impressions or text impressions.   Sometimes all three!  To find out where you can get loads of free promo codes, check out the following post:
5 Places To Get Free Promo Codes For Traffic Exchanges, Safelists, and Viral Mailers
How To Get More Work Done In Less Time:
This site saves me a ton of time clicking for credits:
You can join as a free member but to really get the most out of it, you should upgrade.
Another great program that has saved me a lot of time is: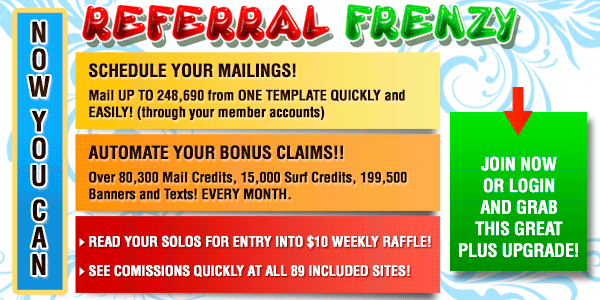 This program does cost to join but you can get a free 7 day trial when you read this eBook:
Click Here To Get Your Free Rebrandable eBook
The eBook can be rebranded for a fee and you can give it to your subscribers in order to get referrals.
I hope you have found this post on how to use free viral mailer and safelists effectively helpful.  Feel free to leave any questions or comments in the comment section below: